Home Inspections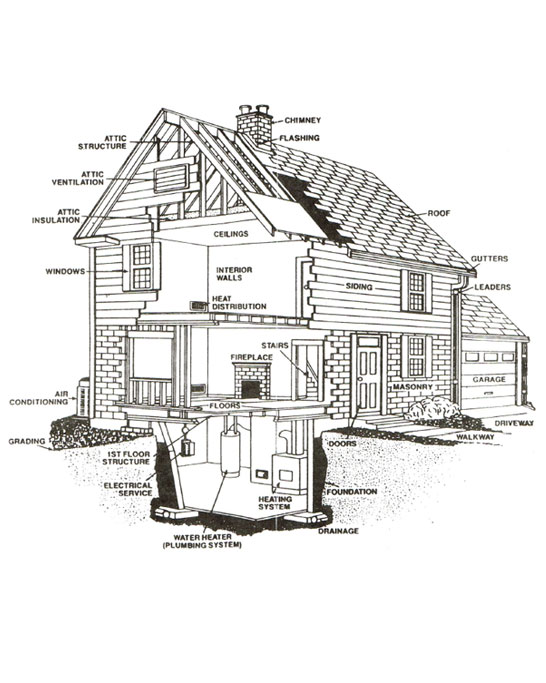 Items Inspected:
Property grading
Driveway, sidewalks and patios
Porches and decks
Stairs and steps
Siding, IE Vinyl, Brick, Aluminum and Stone
Windows and doors
Exterior columns
Gutters and downspouts
Roof coverings, IE shingles, metal and rubberized
Fireplaces and chimneys
Garage and garage door openers
Walls, floors and ceilings
Heating and air conditioning systems
Electrical systems
Plumbing systems
Water heater
Attic and crawlspace insulation
Attic and crawlspace ventilation
Attic and crawlspace access doors
Attic and crawlspace framing
Crawlspaces and slabs
Built in appliances
Smoke detectors

Helpful Hints:
Read and understand the Home Inspection paragraph on your Offer to Purchase/Sales Contract. Ask yourself this question: "Is it performing its original intent, and is it in need of immediate repair?" Consult your Realtor about questions.
Require all repairs to be completed by the seller prior to closing at his expense only by Licensed contractors. Require City/County building Permits if needed to complete the repairs. This is to insure quality repair work.
Require copies of all repair receipts and any work documentation to be supplied to you 48 hours prior to closing. This is to insure repairs have been completed prior to closing.
Require all rotten wood to be replaced. No fillers, putty, epoxy, or caulks should be used. This is a sign of a patch job, not a professional repair.
Inspect and verify all repairs have been completed to your satisfaction prior to closing.
Remember. If is broke after closing, you bought it. Most Warranty Companies do not cover preexisting defects.